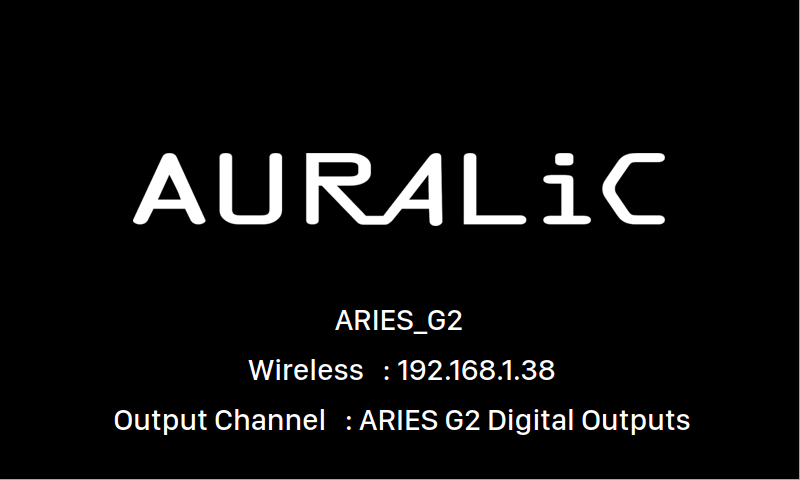 When the ARIES G2 starts up, you are greeted by the Welcome Screen (above), which displays your device model, firmware version, the current network connection type, the IP address of your device, and the output channel in use. Refer to this article for details on accessing the web interface to set up your device using its IP address.
You may press any front panel button (except for the power button) to leave the Welcome Screen and go to the Home Menu. If you select a track to play using control software, ARIES G2 will jump to the 'Now Playing' screen automatically.

Home Menu
The Home menu is the root level menu of your ARIES G2. There are eight destinations available from the Home Menu:
'Now Playing': Displays track information and status, playback mode (shuffle, repeat) and volume.
'Queue': Shows what's currently in the ARIES G2 queue. Individual tracks in the queue may be selected for playback.
'Library': Browse/play music from your library, and set up ARIES G2's built-in Lightning Server.
'System': General hardware-related setup, including network information, output channel, display language, etc.
'Streamer': Settings for the ARIES G2's streaming software.
'Processor': ARIES G2 processor settings. Note that if an external processor is connected via Lightning Link, the ARIES G2 processor is disabled, and options presented here apply to the external processor.
'DAC': Displays settings for any Lightning Link-connected DAC (if used.)
'Master Clock': Displays settings for any Lightning Link-connected Master Clock, such as the LEO G2 (if used.)
Use the 'Up' and 'Down' buttons to highlight a destination, and use the 'Play/Pause' button to select it. Use the 'M' button to return to the Home Screen.