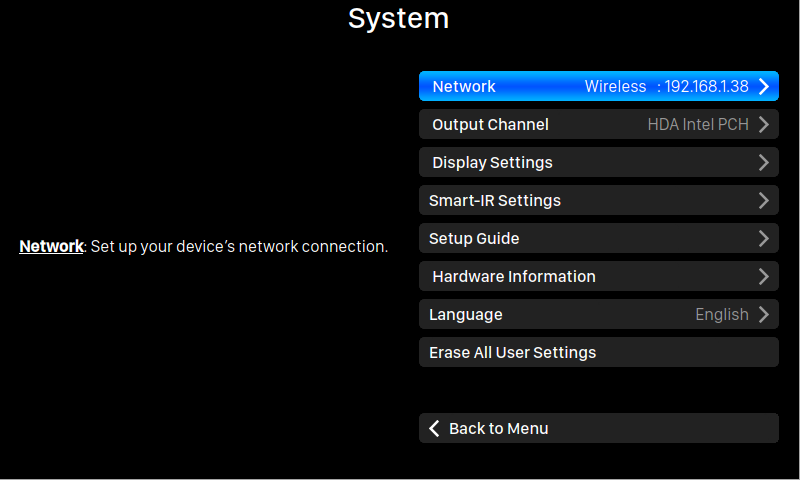 The System menu contains all interface and hardware related settings. Use the 'Up' and 'Down' buttons to highlight menu items and use the 'Play/Pause' button to select. Use the 'M' button to quit the Library interface
'Network': Set up your device's network connection.

Connection Type: Choose Ethernet or Wi-Fi to connect your device.

Wired: Set up an Ethernet connection for your device.
Wireless: Set up a Wi-Fi connection for your device.

Network Information: Show network connection information such as IP address, Wi-Fi network, etc.
Start Wi-Fi Hotspot: Your device will create a Wi-Fi hotspot named 'AURALiC-Lightning'. You can use your computer, iPhone or iPad to connect to this Wi-Fi network and set up the device's network settings. You cannot play music while in Wi-Fi Hotspot mode.

'Output Channel': Select from signal output channels currently available for your streaming device. Analog/digital outputs and USB outputs may not be used simultaneously as they utilize separate clocks for signal timing.
'Display Settings': Set preferences for the front panel display.

Idle Status: Select whether you'd like the display to always remain on, or to turn off automatically.
Display Brightness: Select the brightness of your device's front display.

'Smart-IR Settings': Use this feature to assign your device's functions to any buttons you choose on your IR remote control.
'Setup Guide': A step-by-step guide to help you set up your streaming device.
'Hardware Information': Display device hardware information such as S/N and firmware version.
'Language': Select a different interface language for your device.
'Erase All User Settings': Erase all settings on your device. Your device will reboot automatically when the operation is complete. This operation will not erase music data on your internal storage.