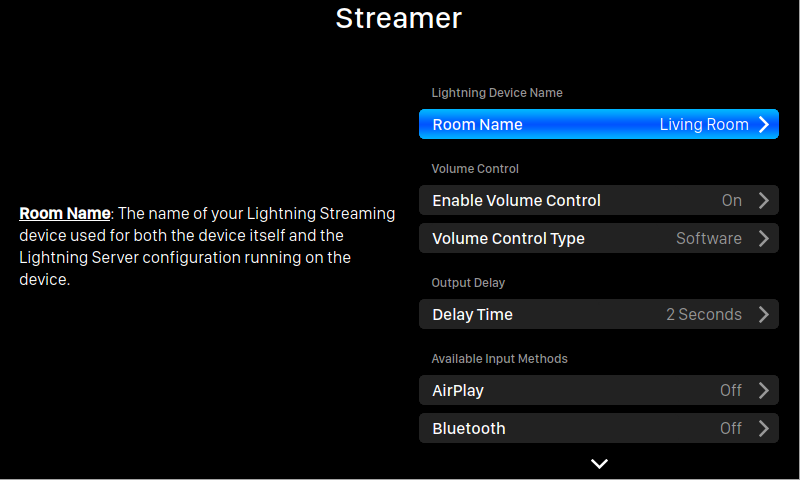 The Streamer menu contains all streaming and rendering related setup options. Use the 'Up' and 'Down' buttons to highlight a menu item, and use the 'Play/Pause' button to select it. Use the 'M' button to quit the Streamer menu.
'Room Name': The name of your Lightning Streaming device used for both the device itself and the Lightning Server configuration running on the device.
'Enable Volume Control': Allows volume control of your device via software such as Lightning DS.
'Volume Control Type': Volume changes can be processed by hardware or software but there are some differences. Hardware volume control is generally the best option for sound quality and is recommended when available. Software volume control can be useful when connecting to external devices that only accept digital or USB input or that have no volume control function. (Due to technical limitations when using software volume control with DSD formats the volume must be set at 100.)
'Delay Time': Some external DACs need a little extra time to lock onto an input signal delivered at a new sampling rate (i.e. different from the previous track.) This setting instructs your streaming device to pause briefly before playing music at a different sampling rate to let the DAC adjust. Without turning this setting on it's possible to miss the first few moments of a track when sampling rates change.
'Available Input Methods': Enable or disable particular virtual input channel. Disable unused input method may improve overall sound quality.